Parish History
In 1849, a missionary of the Episcopal Church began in the Hazleton area under the jurisdiction of the Schuykill Convention of the Diocese of Pennsylvania. This missionary established preaching points at Jeansville, White Haven and Hazleton.
In 1856 the Reverend Peter Russell established residence in Eckley, a few miles from Hazleton.  In the same year, Reverend Russell began to work in Hazleton. During the first 5 years, services were performed in a public school building. As a result of Reverend Russell's work, a congregation was organized.
In 1865 on the 31st day of December, the parish was organized with the Reverend Henry S. Getz as Rector. St. Peter's Protestant Episcopal Church of Hazleton was chosen as the name.
On Sunday, October 8, 1965 the first service was conducted in the new church.
It was in the 1871 that a vestibule was added. The tower and bells were gifts of Mr. And Mrs. Hayden. The 3 bells have rung at St. Peter's since that day.
In 1871 , the Diocese of Pennsylvania came into being and St. Peter's Church became a part of the new Diocese.
In 1881 the rectory was completed with contributions from churches throughout the diocese and members of the local congregation. In 1888 the transept and a new chancel were added through the generosity of Mr. J.C. Hayden.
In 1889 the altar cross was added. The nave's stained glass windows are from the World War II era but all other large and small windows are original and constitute a major historical treasure.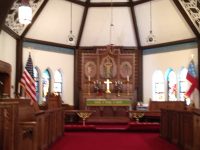 Our Aeloian Skinner organ was installed in the chancel in 1937. It was at this time that the existing altar was also added. It has been in continuous use since that time. In 1947, the present choir room was added and soon after the previous choir room became the kitchen and bathrooms. In 1976 and 1977, the sacristy and parish hall was renovated to include 2 separate Sunday school rooms.